The Power Within (Webinar)
---
Date and time
Wednesday 14. April 2021 at 10:00 to 11:30
Registration Deadline
Monday 12. April 2021 at 23:00
The Power Within (Webinar)
---
Event Description

The Power Within focuses on how we can ease the effects of the challenges we have been faced with this past year. Well-being practices, purposeful habits and recognizing our needs and emotions can all be helpful ways to enhance balance in our everyday lives.
As individuals each one of us has had to face various challenges, no situation is the same. We understand and recognize that it has not been easy. Therefore, we would like to concentrate on what we can control and discuss habits, well-being, and how these practices can be up lifting.

Together we will:
discuss well-being and what are some practices you can introduce into your daily life
raise awareness about morning rituals and purposeful habits
emphasize the power of physical activity and being out doors

Cost: free of charge
Target group: All internationals living in Vejle, no matter if you are an employee, accompanying partner, student or in Vejle for another reason.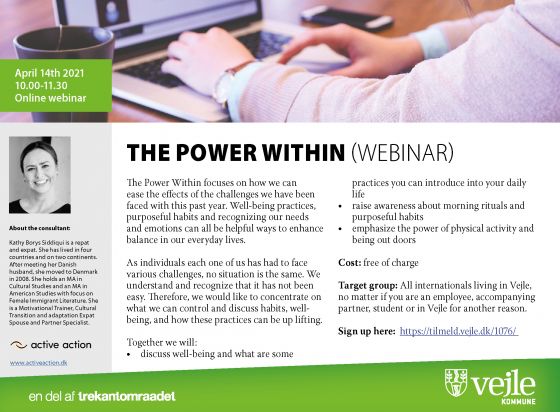 Organizer Contact Information
Newcomer Service
Phone: +45 21810436
lunie@vejle.dk
Organizer Contact Information
Newcomer Service
Phone: +45 21810436
lunie@vejle.dk